Wednesday July 31st.
Today a group of 34 got on a coach at 11am outside the Church and set off for a trip on the Watercress line Steam Train.
We arrived at about 11:45 to catch the 1pm train, this gave everyone time to explore the surrounding area or just stay on the station and have a cup of tea.
Once on the train we all sat down to a wonderful lunch which was waiter served, some had Ham or Cheese ploughmen's with salad or Quiche with salad.
When we got to the other end we all got off for a look around whilst the lunch was cleared away ready for Tea and Doughnuts on the return trip. The volunteer staff on the train were excellent and made it a lovely day.
We were very lucky that the weather was good, the atmosphere was good and everyone had a great time.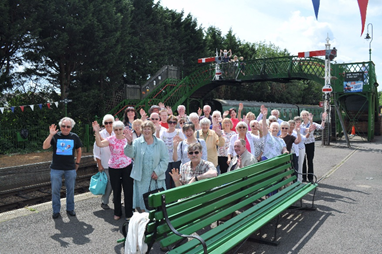 Written by David Stewart.