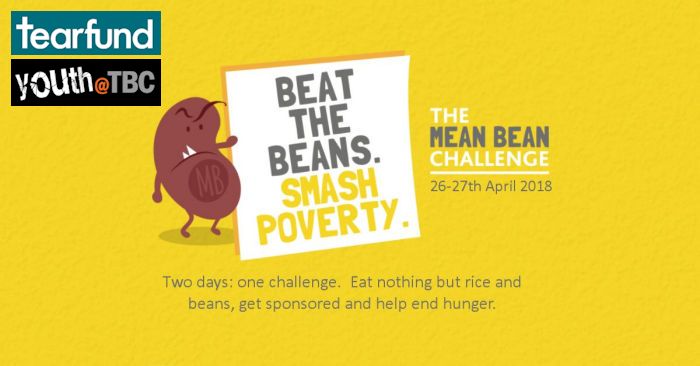 This spring youth@TBC are partnering with Tearfund to make a difference in areas of the world where poverty and hunger dominate people's lives. We are joining with thousands of others in the Mean Bean Challenge – living for just two days on the kind of diet that millions around the world live on every day in order to raise awareness and raise money and, ultimately, to work towards an end to poverty and hunger.
If you would like to sponsor one of our team please click here to visit our Just Giving team page.
If you want to sign up to join our team please follow these instructions carefully:
Download our information sheet, show it to your parents and get their permission to take part.
Visit the Tearfund 48 hour Mean Bean Challenge page and click "Sign up Today".
Fill in all your details, make sure you leave a tick in the box saying "Create a Just Giving page for me".
Enter your email address and a password for Just Giving – make a note of these!
Click "Start Fundraising".
It will then ask you whether you want to join a team. Enter our team name which is "tbcmeanbeans" (without the quotes) in the box and press OK.
You can now share your Just Giving page on Facebook etc. to encourage people to sponsor you.
You can also download a printable sponsorship form for people who would rather sponsor you the old way.
There is loads more information on the main Tearfund Mean Bean Challenge page.